I love these pictures of Evie and Shoshi. They were self-directed; choosing beads and the color coded tin; sorting them by color. I could see by their sorting that they had an awareness of color, and when I asked the names of the colors, they were able to identify them. This is a great activity for developing the math skill of sorting by color. This is just one of the activities available in the room at the Gan-Garrett Jewish Preschool. And this is just one way to use the beads, and the sorting tin.
Our room is a hub of busy, fun play, of laughter and conversations and energy. We, as Morahs, move through the room, and from child to child, engaging in conversations, always looking for ways where we can further the children's thinking processes, problem solving skills, and their language skills.
To that end, I wanted to encourage the children to find interesting, new ways to use the beads (and any and all of our materials and activities). I wanted to broaden their ways of seeing things; to open them up to possibilities, and empower them to be as creative as they can be. One of the best ways to do that is to ask open-ended questions, which can be a catalyst for pondering and thinking, and coming up with new ideas. This is beneficial on an individual level; in a group setting, brainstorming can increase the ideas. So, I invited the children to Circle Time last week, poured the beads on the carpet (without the "muffin tin sorter"), and then I started to pose some questions.
Morah Lynn: "What do you notice?
Zoey: "This one is stood up and this one is stood down."
Evie: "They don't look the same. They look different kinds. This one is a square and this one is a circle."
Kenya: "That they're different shapes."
Sammy: "I like the red ones."
Morah Lynn: "If you were to play with them, what is one way you could play with them? You can say any way, and it can be different than how your friends might play with them."
Zoey: "You can pick up one orange, red, yellow, green, blue, purple."
Evie: "You can pick them up and set them down."
Sammy: "Stack them up."
Gwen: "Pull out one of each color and set them down."
Kenya: "You can put them in there." (Went to get the tin) "Colors."
Brexton: "Stack them."
Lael: "Stack them."
Morah Lynn: "What do you see?"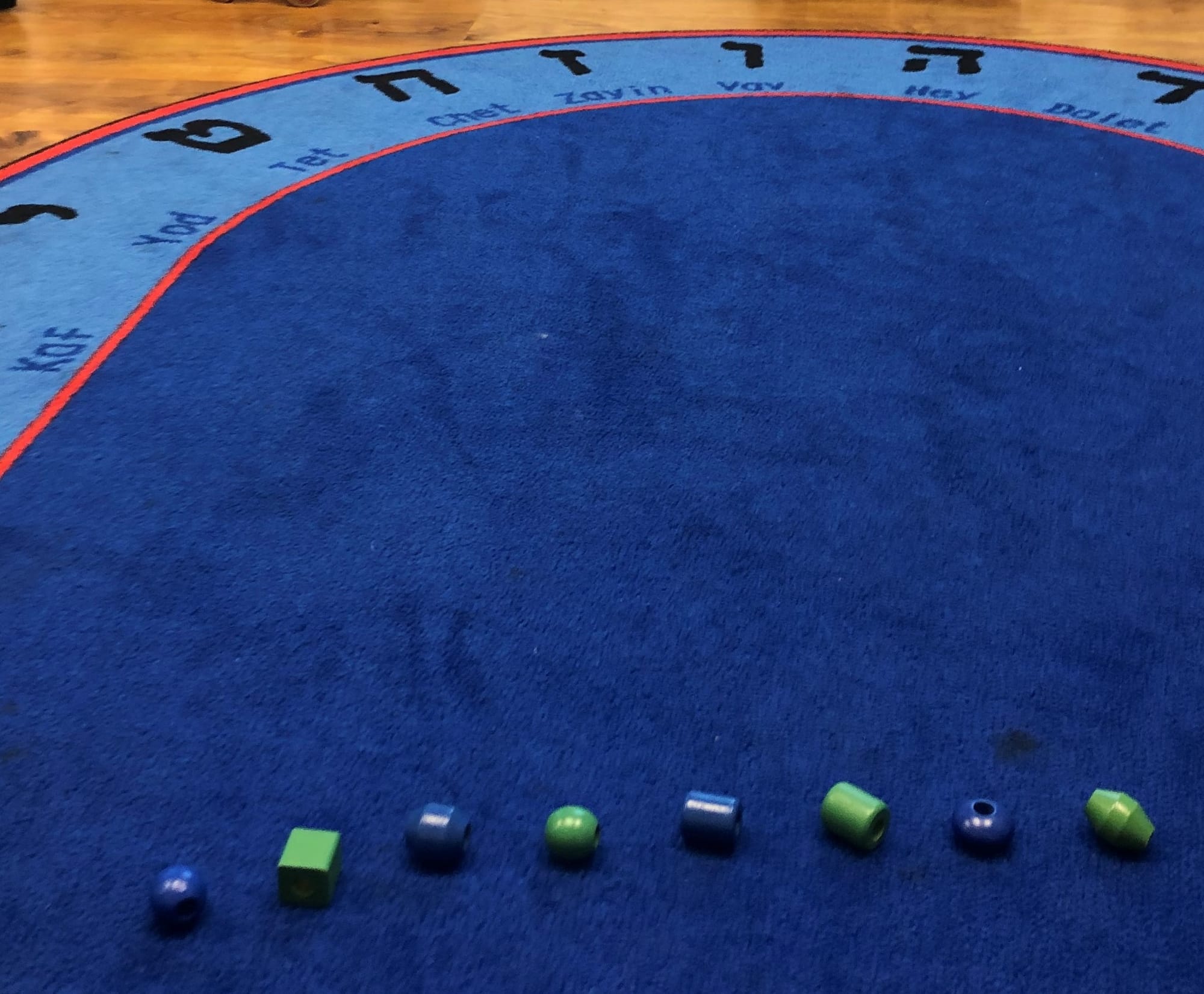 Sammy: "A pattern."
Morah Lynn: "Can you read it with me?" (I touched each bead as I progressed from their right to left)
The children: "Green, blue, green, blue, green, blue, green, blue."
Morah Lynn: "If I want to keep making the pattern, what color comes next?"
Sammy: "Green."
On different days, following that Circle activity, this is what I came upon:
Kenya: "Look Morah Lynn. These are the same shape."
Sammy: "Morah Lynn! (Sammy called from across the room) Come and see my pattern! I made a pattern! It's red, purple, red, purple, red, purple, red, purple. And I even know what comes next. Red!"
Brexton: "I made a tower."
The children were choosing the beads, and using them in different ways, and had the words to describe what they were doing.
Without the open-ended questions, the children may have found new ways to use the beads on their own. But this is about something more significant than 'how to use the beads". This is really about empowering children to feel free to explore. About Morahs asking thought provoking questions which help them to think harder and deeper. About introducing vocabulary words. About expanding their receptive and expressive language skills. About letting them become designers and builders and engineers, who think outside the box.
In the weeks and months to come, we'll be showing you some of the "hows" and the "whys" , indeed, the intentionality of what the Morahs do to keep the activities thought provoking, engaging, fun, open-ended, developmentally appropriate and best practice.
Morah Lynn